So it has definitely been awhile since I've created anything new to sell! I must say that I really enjoyed this paper, I love the swirly flowery types of designs and love it even more since it is in pink, brown, and green!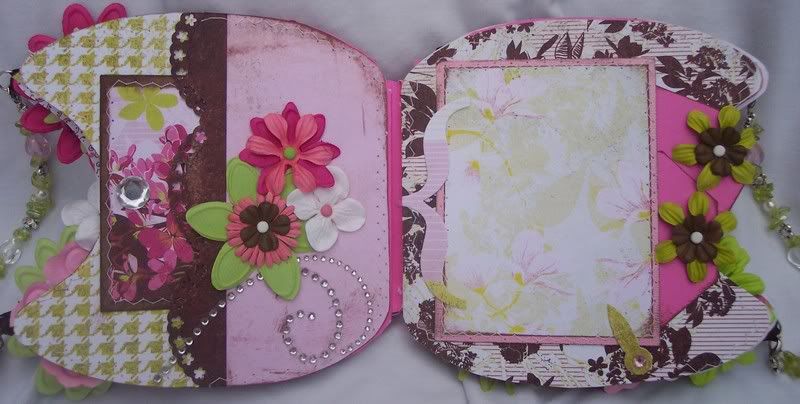 It has definitely been spring cleaning week at my house- or is it summer cleaning? Either way, I've decided to get rid of a lot of stuff! I think we will be having one more baby in the future, but I decided not to keep a bunch of old baby clothes that the kids had outgrown- only my FAVORITE outfits, so I'm selling the excess on ebay this week- along with various other baby stuffs! It's going really well so far, I've made more than I would have at a garage sale, that's for sure!
I've also got a ton of scrapbook supplies left to sell- a few used things but a lot of inventory that I never sold in my ebay store or on my website. There's a LOT and I do mean a LOT of daisy D's snowflakes and holly paper and embellishments left- if anyone is interested PLEASE email me and I'll give you a great deal LOL! I'm going to list it on ebay along with a bunch of prima's I have left over and some 3 bugs Spring caboodle kits.
And one last random thought for today's post! I have been gardening this year! In the past I've usually killed my flowers by now because I don't go outside and water them! This year Lucas is loving to play outside and ride his tricycle so I've been taking him out everyday and letting him help me water. I am absolutely in love with my hydrangeas and I hope that someday I can get several different kinds of them. My neighbor and I were just talking about flowers earlier this year and I told her I was going to try not to kill them this year- just this week she told me she was proud of me for watering them :) Now if only I can keep it up when the temperature hits the 100's! Here's a few pics:

This photo is of my hydrangea- I just love the big pretty blooms!
Here's my Gerbera Daisies- another favorite! The middle one is light pink but it wasn't blooming when I took the photos!
And here's lucas helping me water flowers with his own watering can!