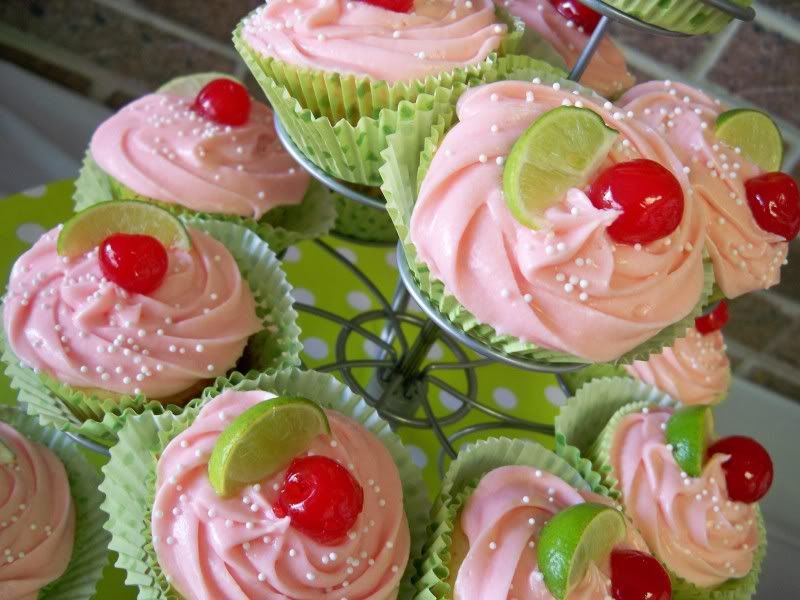 When it comes to throwing showers (of any kind), I just can't help myself. No matter how simple it is supposed to be... the wheels in my mind keep spinning and before I know it I have a mile-long list of ideas for custom decorations, handmade treats, and coordinating accessories! This shower evolved from a "cherry jubilee" to a "cherry limeade" theme during a trip to Wal-Mart... and as soon as the idea hit me- I knew it was going to be perfect!
Most of the party supplies came from Hobby Lobby, Wal-Mart, and Michael's. The wooden crate for silverware was from Hobby Lobby and I painted it with acrylic paint. All of the miniature chalkboards were also painted by me- which did take a little extra time, but in the end I was able to create unique decorations that perfectly matched the shower for under $5 a piece. I had considered adding extra cherry die cuts around the borders of the chalk boards but decided that they looked good with a simple coat of paint.
I used some fabric from Hobby Lobby to tie around the silverware and added a cute bow to the wooden crate with some cherry fabric from Michael's.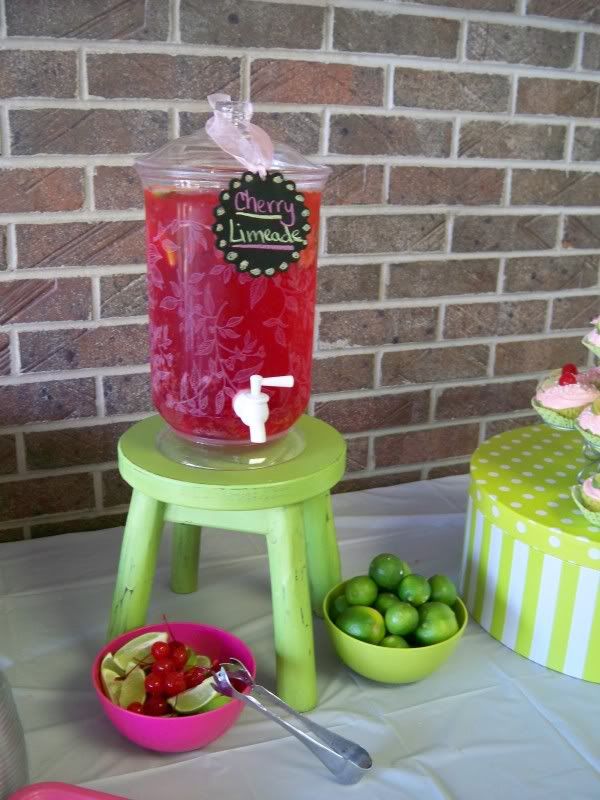 No generic punch here- of course a cherry limeade themed shower should have cherry limeade! I made this myself using a cherry limeade Sam's Choice brand mix (it was by the Crystal Light) except I mixed it up with 7up instead of water, then I added lime wedges and some maraschino cherries. I put extra limes and cherries in a bowl so that we could feel fancy and top our drinks with them! The kids enjoyed these too!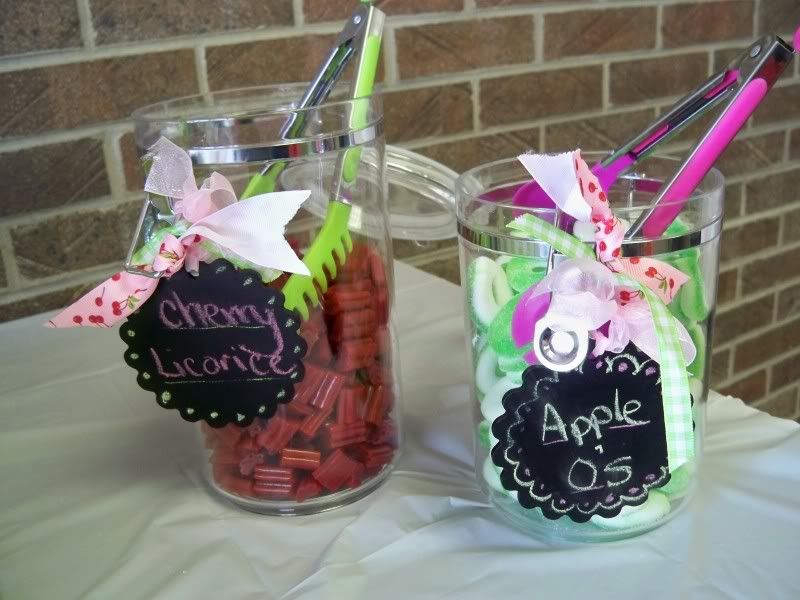 I have to say... these chalkboard tags are like the find-of-the-year for me, they turned out so stinkin' cute! Of course, me being an adult who still <3's to color with chalk miiiiiight have just a liiiitle bit to do with that ;)
I tied lots of little bits of ribbon around these jars and filled 'em with candy that came in colors that matched my theme. I am an over-achiever like that. And yes, I spent about an hour in the candy aisle at Target trying to decide which candy would be the best. And yes, these jars are now sitting on my kitchen counter because they are too cute to put away.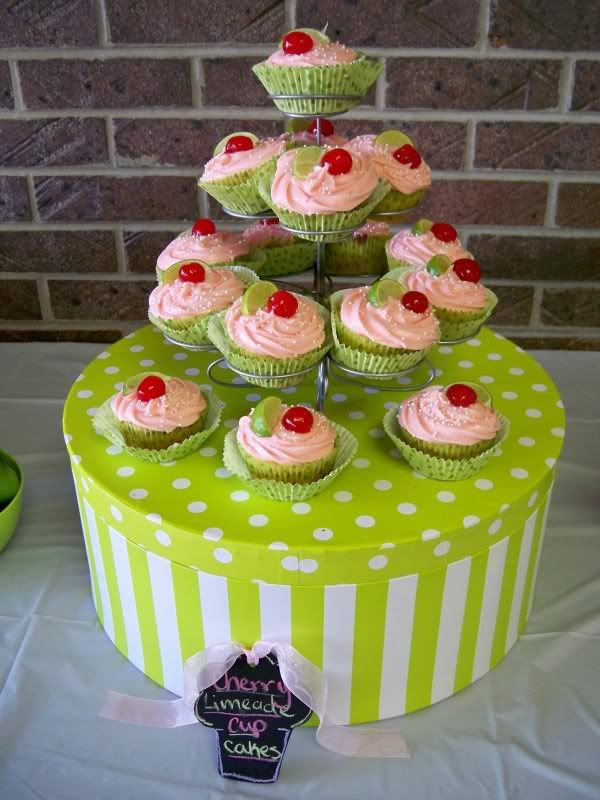 Ahhhhh.... the cupcakes.....
Please honor this moment of silence and drool over the pure cuteness before thee.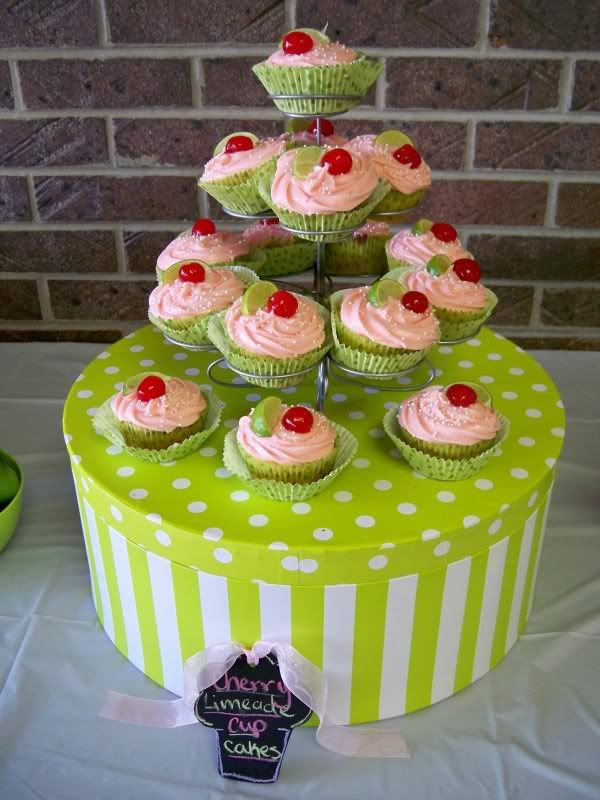 Ya'll may have read my posts about my dear friend Carrie before... or you may not have, whatever the case- she loves cupcakes. She calls them cuppiecakes. And she makes them a lot- any reason is a good reason to have cuppiecakes!
If you know Carrie, you will never throw her a shower that has cake without cupcakes. It would not be proper :)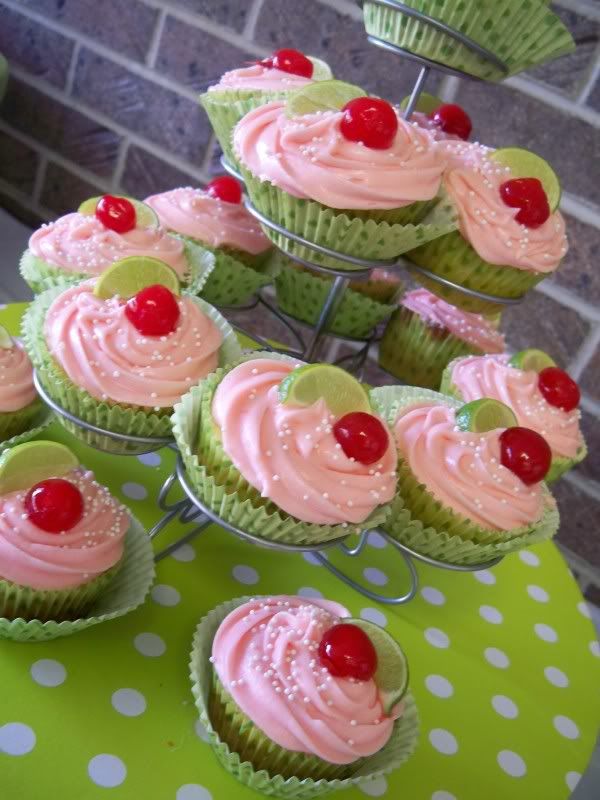 Thank you
Annie's Eats
for the awesome cherry limeade cuppiecakes recipe :) I stayed up until 3 am making these little beauties and it was worth it!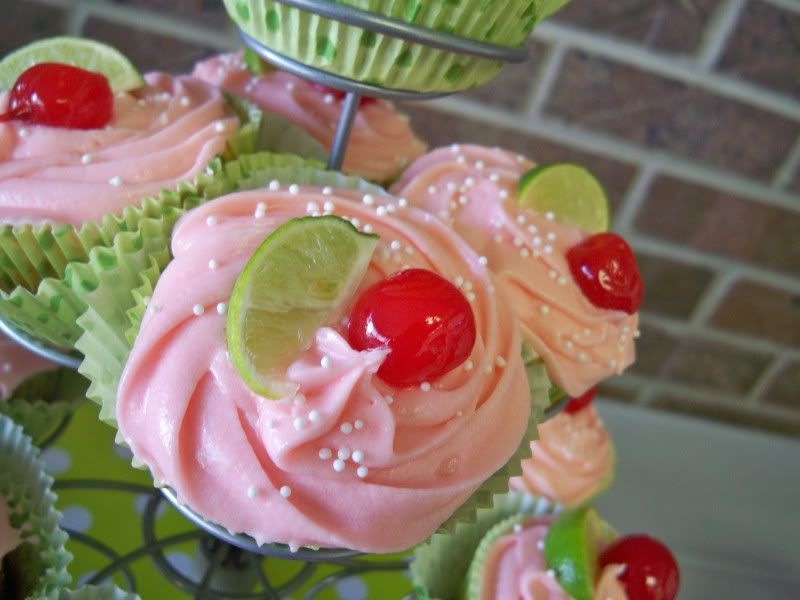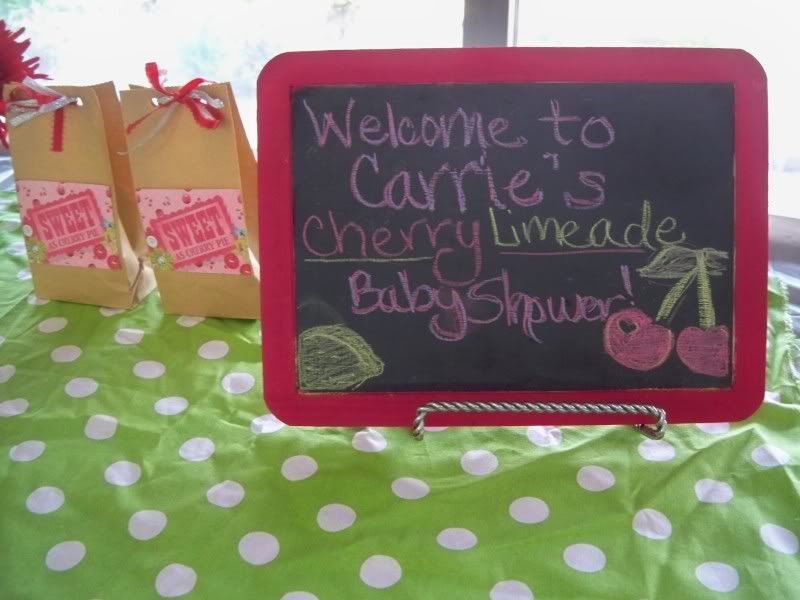 This was our "welcome" table. The green polka dot "tablecloth" is actually just more fabric from Hobby Lobby. The little bags next to my super duper cool chalkboard sign are a couple of the goody bags I used for party favors. I created the labels using a digi scrapbooking kit and filled them with paper shreds and a Ghiradelli chocolate.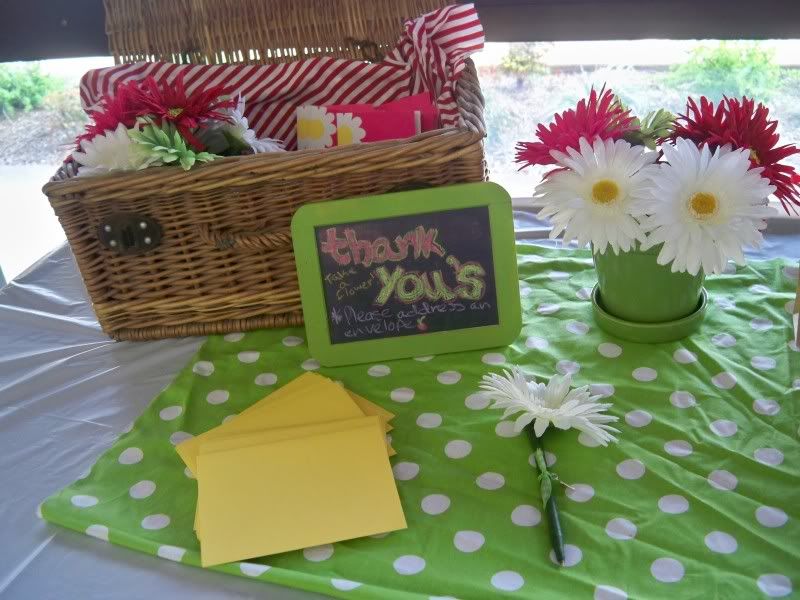 The second part of our party favors were daisy topped pens. I have always thought these darn things are so cute, so I have nooooooo clue why I never made them before! It was so easy... I made extras so that I can be super dorky and make all of my to-do lists with a flower pen now.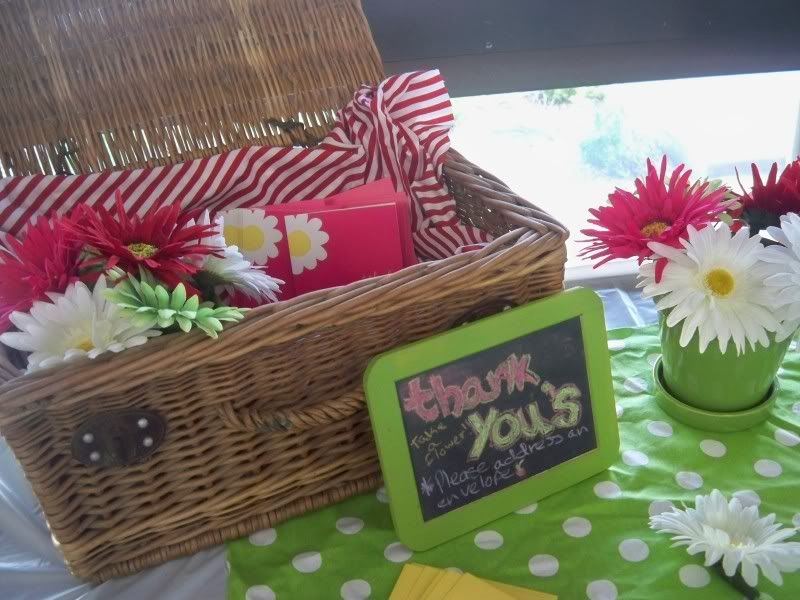 This picnic basket actually came from my attic! It was here when we moved in, all it needed was a little cleaning! I lined the inside with more Hobby Lobby fabric and filled it with flower pens and envelopes for thank you notes.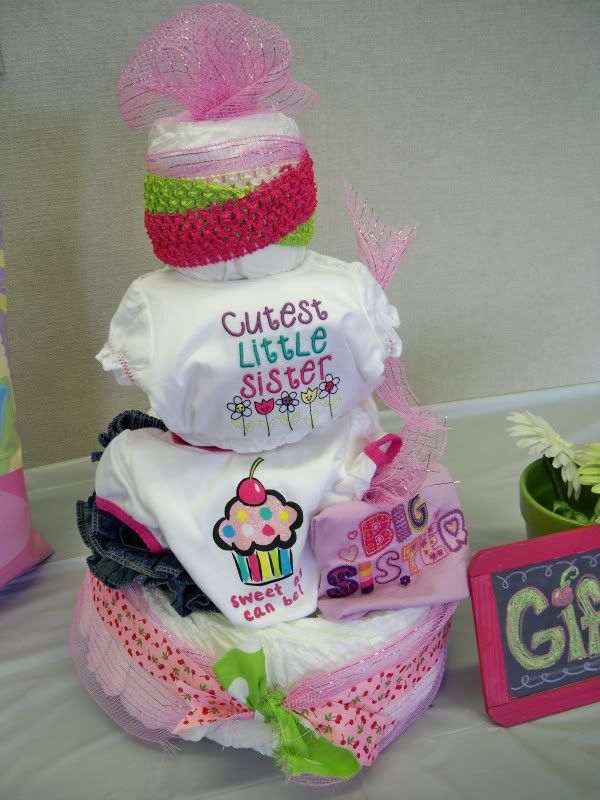 Diaper cake time!!!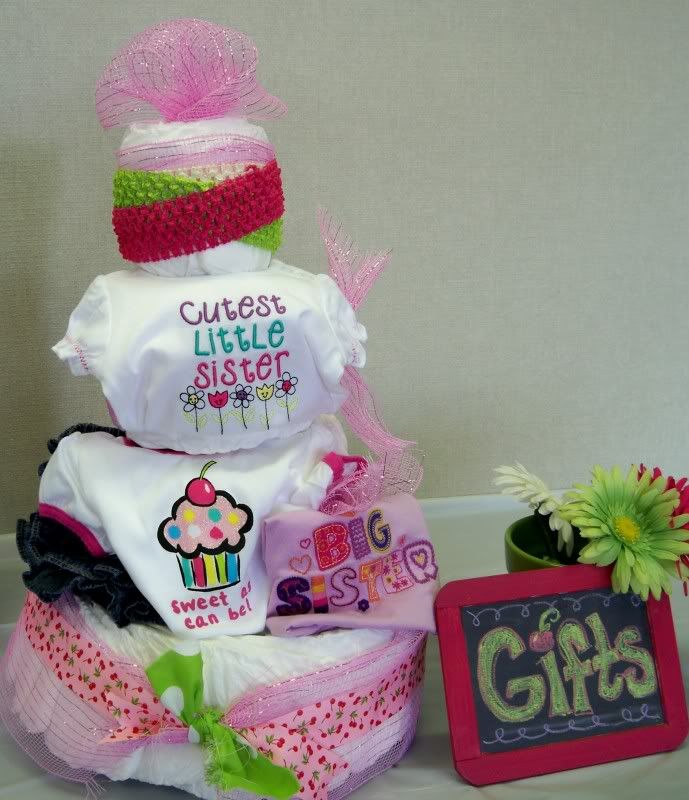 This diaper cake is a little different than my normal ones because it actually had
clothes
on it. Carrie already has a lot of my handmade hairbows and some that she made herself, so I decorated the layers of the diaper cake using ribbons, fabric, and some mesh ribbony stuff (thats the technical term for it...).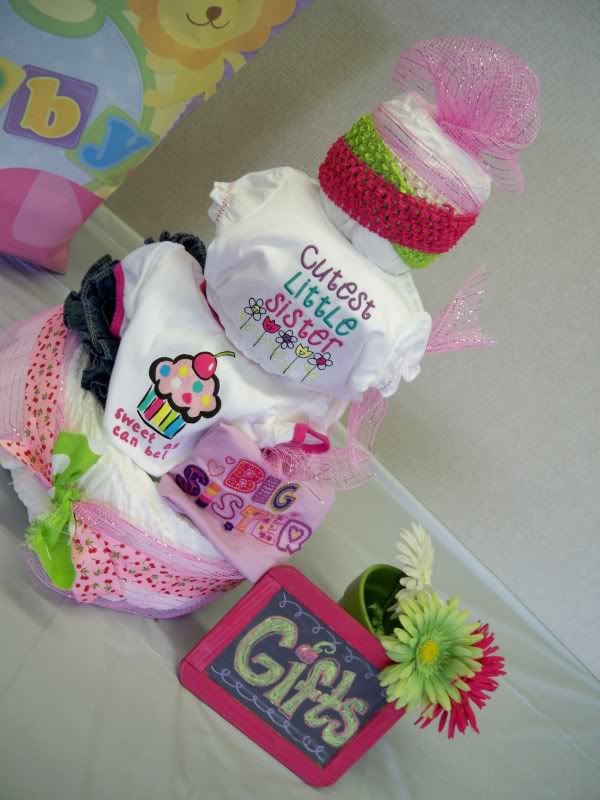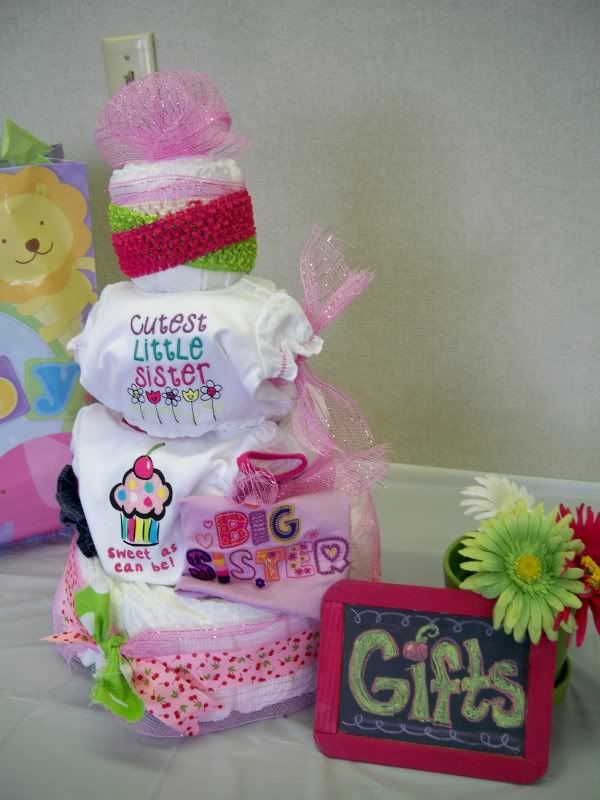 Congratulations Carrie and thank you for letting me throw you a fancy schmancy custom baby shower :)
The beautiful and fun mommy! Of course we had to make her pose with a cuppiecake!